What is Google Proof Trivia?
We know that you love playing trivia.
You come out at night and go to your favorite bar and tax your grey matter to the utmost just to prove that you know more than that annoying team next to you.
But what about during the day?
Google Proof Trivia is our way of giving you your trivia fix during the workday.
We currently do one style of game each week that puts you to the test. We know what you are thinking... "Any question you ask I can just look up online and give the answer." Not so. We pride ourselves on the fact that none of the Google Proof Trivia we create can be solved by simply typing the question into the Google machine. You will need to create research paths and delve into the depths of the Internet to answer Google Proof Trivia. You will need to involve your friends and ask your co-workers. You will never simply just KNOW the answer to Google Proof Trivia... you are going to have to work for it!
...and to the winner? District Trivia is offering a Free Pass to the CSN Trivia Challenge and Tournament of Champions finals to anyone who can win 3 Google Proof Trivia challenges in a single season.
Interested? Click on any link in the "GPT Type" column below and see if you can solve Google Proof Trivia!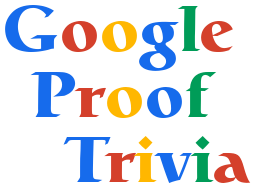 | GPT Type | GPT Publish Date | Winner | Time to Solve |
| --- | --- | --- | --- |
| Wiki Train of Thought | June 23rd, 2016 | Nathan Hauke | 0 Days, 9 Hours, 32 Minutes |
| Foursomes | June 16th, 2016 | Unsolved | Unsolved |
| Foursomes | June 9th, 2016 | Unsolved | Unsolved |
| Wiki Train of Thought | June 2nd, 2016 | Nathan Hauke | 1 Day, 1 Hour, 54 Minutes |
| Travel Trivia | May 26th, 2016 | Nathan Hauke | 5 Days, 4 Hours, 36 Minutes |
| Travel Trivia | May 19th, 2016 | Unsolved | Unsolved |
| Foursomes | May 12th, 2016 | Nathan Hauke | 205 Days, 13 Hours, 29 Minutes |
| Movie Madness | May 5th, 2016 | Jeremy Horwitz | 72 Days, 1 Hour, 41 Minutes |
| Movie Madness | February 18th, 2016 | Jeremy Horwitz | 0 Days, 8 Hours, 27 Minutes |
| Reverse Image Search | February 4th, 2016 | Unsolved | Unsolved |
| Wiki Train of Thought | January 28th, 2016 | Jeremy Horwitz | 1 Day, 2 Hours, 25 Minutes |
| Movie Madness | January 14th, 2016 | Megan Miraglia | 0 Days, 9 Hours, 18 Minutes |
| Reverse Image Search | December 31st, 2015 | Unsolved | Unsolved |
| Wiki Train of Thought | December 24th, 2015 | Andy Browne | 4 Days, 23 Hours, 58 Minutes |
| Travel Trivia | December 17th, 2015 | Heather Hurley | 0 Days, 0 Hours, 33 Minutes |
| Reverse Image Search | November 26th, 2015 | Unsolved | Unsolved |
| Wiki Train of Thought | November 19th, 2015 | Tyler Johnson | 0 Days, 0 Hours, 28 Minutes |
| Travel Trivia | November 12th, 2015 | Heather Hurley | 0 Days, 0 Hours, 7 Minutes |
| Movie Madness | November 5th, 2015 | Patrick G Johnson | 9 Days, 4 Hours, 18 Minutes |
| Travel Trivia | August 27th, 2015 | Michael Bolton | 0 Days, 3 Hours, 59 Minutes |
| Movie Madness | August 20th, 2015 | Jeremy Horwitz | 2 Days, 4 Hours, 1 Minute |
| Foursomes | August 13th, 2015 | Karthik Subramanian | 1 Day, 3 Hours, 55 Minutes |
| Reverse Image Search | August 6th, 2015 | Grace St. Vincent | 0 Days, 10 Hours, 18 Minutes |
| Wiki Train of Thought | July 30th, 2015 | Heather Hurley & Bethanie Haynes | 0 Days, 0 Hours, 26 Minutes |
| Travel Trivia | July 23rd, 2015 | Shreya Durvasula | 4 Days, 3 Hours, 50 Minutes |
| Movie Madness | July 16th, 2015 | Jeremy Horwitz | 6 Days, 2 Hours, 14 Minutes |
| Foursomes | July 9th, 2015 | Shreya Durvasula | 0 Days, 3 Hours, 2 Minutes |
| Reverse Image Search | July 2nd, 2015 | Grace St. Vincent | 59 Days, 9 Hours, 44 Minutes |
| Wiki Train of Thought | June 25th, 2015 | Heather Hurley | 0 Days, 0 Hours, 49 Minutes |
| Travel Trivia | June 18th, 2015 | Katelynn Treece | 0 Days, 0 Hours, 21 Minutes |
| Movie Madness | June 11th, 2015 | Ryan Kelly | 1 Day, 5 Hours, 54 Minutes |
| Foursomes | June 4th, 2015 | Shreya Durvasula | 5 Days, 5 Hours, 9 Minutes |
| Reverse Image Search | May 28th, 2015 | Joe Ridge | 0 Days, 5 Hours, 50 Minutes |
| Wiki Train of Thought | May 21st, 2015 | Heather Hurley | 0 Days, 0 Hours, 17 Minutes |
| Travel Trivia | May 14th, 2015 | Bethanie Haynes | 0 Days, 2 Hours, 22 Minutes |
| Movie Madness | May 7th, 2015 | Jennifer Sweetapple | 5 Days, 8 Hours, 14 Minutes |
| Travel Trivia | February 26th, 2015 | Heather Hurley | 9 Days, 23 Hours, 22 Minutes |
| Movie Madness | February 19th, 2015 | Jefferi Lee | 6 Days, 4 Hours, 7 Minutes |
| Foursomes | February 12th, 2015 | Shreya Durvasula | 0 Days, 5 Hours, 40 Minutes |
| Reverse Image Search | February 5th, 2015 | Jefferi Lee | 14 Days, 0 Hours, 39 Minutes |
| Wiki Train of Thought | January 29th, 2015 | Stavie Brown | 0 Days, 0 Hours, 23 Minutes |
| Travel Trivia | January 22nd, 2015 | Heather Hurley | 0 Days, 0 Hours, 47 Minutes |
| Movie Madness | January 15th, 2015 | Heather Hurley | 25 Days, 0 Hours, 33 Minutes |
| Foursomes | January 8th, 2015 | Kit Sheffield | 3 Days, 3 Hours, 27 Minutes |
| Reverse Image Search | January 1st, 2015 | Chris Brwne | 2 Days, 12 Hours, 57 Minutes |
| Wiki Train of Thought | December 25th, 2014 | Chris Brwne | 0 Days, 0 Hours, 57 Minutes |
| Travel Trivia | December 18th, 2014 | Kit Sheffield | 3 Days, 13 Hours, 22 Minutes |
| Movie Madness | December 11th, 2014 | Kit Sheffield | 4 Days, 12 Hours, 43 Minutes |
| Foursomes | December 4th, 2014 | Chris Brwne | 1 Day, 3 Hours, 22 Minutes |
| Foursomes | November 28th, 2014 | Stan Reeser | 16 Days, 4 Hours, 43 Minutes |
| Reverse Image Search | November 27th, 2014 | Chris Brwne | 19 Days, 0 Hours, 59 Minutes |
| Wiki Train of Thought | November 26th, 2014 | Heather Hurley | 1 Day, 10 Hours, 49 Minutes |
| Travel Trivia | November 25th, 2014 | Heather Hurley | 0 Days, 1 Hour, 36 Minutes |
| Movie Madness | November 24th, 2014 | Deb Bell | 15 Days, 4 Hours, 3 Minutes |
| Wiki Train of Thought | November 20th, 2014 | Regina Hogle | 0 Days, 0 Hours, 24 Minutes |
| Travel Trivia | November 13th, 2014 | Heather Hurley | 0 Days, 7 Hours, 56 Minutes |
| Movie Madness | November 6th, 2014 | Kit Sheffield | 37 Days, 17 Hours, 54 Minutes |
| Reverse Image Search | September 11th, 2014 | Heather Hurley | 0 Days, 0 Hours, 21 Minutes |
| Wiki Train of Thought | September 4th, 2014 | Jordan Kirschenbaum | 0 Days, 0 Hours, 7 Minutes |
| Movie Madness | August 28th, 2014 | Heather Hurley | 2 Days, 23 Hours, 55 Minutes |
| Reverse Image Search | August 21st, 2014 | Christopher Flinton | 0 Days, 3 Hours, 21 Minutes |
| Wiki Train of Thought | August 14th, 2014 | Heather Hurley | 0 Days, 0 Hours, 5 Minutes |
| Travel Trivia | August 7th, 2014 | Heather Hurley | 0 Days, 0 Hours, 32 Minutes |
| Movie Madness | July 31st, 2014 | Kit Sheffield | 4 Days, 5 Hours, 57 Minutes |
| Reverse Image Search | July 24th, 2014 | Heather Hurley | 0 Days, 0 Hours, 5 Minutes |
| Wiki Train of Thought | July 17th, 2014 | Kit Sheffield | 0 Days, 0 Hours, 8 Minutes |
| Travel Trivia | July 10th, 2014 | Heather Hurley | 0 Days, 1 Hour, 16 Minutes |
| Movie Madness | July 3rd, 2014 | Heather Hurley | 6 Days, 4 Hours, 17 Minutes |
| Reverse Image Search | June 26th, 2014 | Kit Sheffield | 0 Days, 1 Hour, 26 Minutes |
| Wiki Train of Thought | June 19th, 2014 | Kit Sheffield | 0 Days, 0 Hours, 6 Minutes |
| Travel Trivia | June 12th, 2014 | Heather Mroczkowski | 0 Days, 5 Hours, 25 Minutes |
| Movie Madness | June 5th, 2014 | Kit Sheffield | 0 Days, 8 Hours, 32 Minutes |
| Reverse Image Search | May 29th, 2014 | Kit Sheffield | 0 Days, 6 Hours, 14 Minutes |
| Wiki Train of Thought | May 22nd, 2014 | Kit Sheffield | 0 Days, 0 Hours, 11 Minutes |
| Travel Trivia | May 15th, 2014 | Jackie Williams | 1 Day, 3 Hours, 54 Minutes |
| Movie Madness | May 8th, 2014 | Jackie Williams | 0 Days, 7 Hours, 34 Minutes |